photo by jónsi
such squalor ... such splendor
the music group sigur rós took a week-long visit to the small african nation of swaziland in late september. the trip was carried out in cooperation with UNICEF (united nations children's fund) as swaziland has the highest rate of HIV infection in the world with nearly 40% of the nation infected. arnar eggert thoroddsen discussed the visit with two of the band's members, jón thór birgisson and georg holm, who claim to be changed men after their experience.
"it was a seven-day trip, but we were only in swaziland for five," says jón thór, who goes by the nickname jónsi. "it was a long journey and our first time in africa so we had to get all kinds of vaccinations."
georg says that the four members of the band flew from london to johannesburg and from there to swaziland's manzini airfield. the other two band members are kjartan sveinsson and orri páll dyrason.
"UNICEF got in contact and invited us on the trip," says jónsi when asked how the trip came about. "they asked us to see the situation with our own eyes. it was really intense to do this, to leave the television screen and step into reality. to have all these smells and feel the heat… it's indescribable."
georg adds, "HIV is spreading like wildfire there. there are predictions that after two years AIDS will have wiped out all the teachers there!"
jónsi says that the society in swaziland is completely different than that in iceland.
"polygamy is allowed there so some men will have several women and girlfriends and sometimes vice-versa. while we were there you could tell that the discussion of AIDS was increasing, but really it's a complete taboo there. women have started to have more HIV tests, but the men are still reluctant. it's a tiny country; about a million people live there."
georg says it does not help that the king has fourteen wives and is regarded as a god.
"he has taken money from the nation, which finally said stop when he tried to buy a private jet."
the band stayed at a hotel where jónsi says everything seemed a bit amiss.
"there is also tremendous wealth, even though 70% of the population lives under the poverty line. that's why it was so bizarre to leave the hotel in the city to encounter barefoot children everywhere dressed in rags out in the countryside."
georg says it was difficult to spend ten hours out in the countryside with people who didn't know whether they'd eat that night, only to return to the good life in the city.
"these people have to travel three hours for water. then you get back to your hotel, hop in the shower, brush your teeth, and step out for a bite to eat. you can't help but be affected by this. it almost makes you want to stop taking showers!"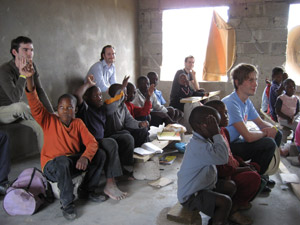 the boys in sigur rós had first-hand experience of what it is like to sit and learn in the dilapidated schoolroom
no way out
the band followed a tight schedule the entire time. accompanying them were hólmfrídur anna baldursdóttir from UNICEF iceland, cameraman ólafur rögnvaldsson, and filmmaker silja hauksdóttir. the group flew with icelandair who helped fund the trip among other companies.
"there was a twelve-hour schedule everyday," recalls jónsi, "we drove around and visited orphaned children with HIV and families."
there are many young children who live on their own because both parents have died of AIDS.
"we met a family of three children, a girl and two boys, who live alone. the oldest, celumusa, was twelve," says georg. "there may be a grandmother to care for them, or maybe not. but these kids looked after themselves completely; cooking, taking care of the house and the animals around. they also went to school and things like that and were some of the best in their grade. it was unbelievable."
georg says it was actually like landing on another planet.
"and not the most fun planet in the world either."
UNICEF's work in swaziland consists of educating people about AIDS and how HIV is transmitted, preventing mother-to-child transmission, and distributing medication. UNICEF also sees great importance in making the world aware of the situation here. additionally, UNICEF lends support to domestic organizations like SWAPOL (swaziland for positive living).
"in these organizations it's HIV-positive people who help others," explains georg. "they teach people how to take the medication, because you need to eat well if you're on it. this medicine is absolute poison. there are two ways to survive with HIV there: either to eat healthy food or to eat really well when you take the medication. but most people don't even have the chance. most of them are so weak that they can't get themselves food and water."
as one might expect, most the inhabitants of swaziland are consumed by this disaster.
"then when you're in the hotel or the capital you see some guy driving a bmw right past you. and then there are also people there that don't really care, as tends to happen." on december 1, 2006 iceland will hold its first red nose day, which has been an annual event in the uk since 1988. channel 2 will have live broadcast that evening for UNICEF's fundraising campaign, which will include a video of sigur rós's trip.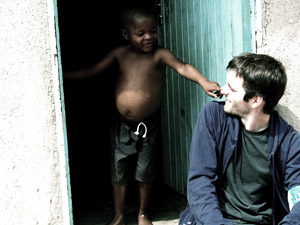 celimphilo is a six-year old boy that lost his parents shortly after being born. he is HIV-positive but has done well on his medication, so his health is much better than many others who are infected. sigur rós paid a visit to his home where he is under the care of his uncle. celimphilo was especially fond of kjartan.
powerlessness
"the purpose of our visit was mainly so that icelanders could see other icelanders in these conditions, to bring this reality a little closer," says jónsi.
"you just become powerless when up against this," adds georg, "but at the same time full of energy. you really want to take action, but the very thought is dizzying. where do you begin?"
jónsi says they had met with UNICEF after the trip and discussed ways to do something further.
"it would be good to make another series about this. there was enough footage. and we were also thinking of having a photo exhibition and selling the pictures to raise money for aid organizations there. we all had cameras there, and the pictures we took could make a difference for thousands of people! but we haven't firmed up any plans yet."
georg says they are quite interested in better supporting SWAPOL's efforts.
"one of the many problems there is transportation. SWAPOL provides for hundreds of people that are, in many cases, far away from anyone else. SWAPOL has received pledges from a number of institutions for all kinds of support for this program. all they need now is the vehicle itself. that's the project we want to take on—to get them a vehicle. just one vehicle, like so much else there, can make all the difference."
jónsi says the trip has had a large impact on them all. "people are so sheltered on this little island. they have access to everything and there are no problems. this trip got you to think. it was a shock; i've never been through anything like it before."
on the other hand, georg says that – to his dismay – he has recovered from the shock.
"i actually think it's dreadful because this isn't something that someone should be able to recover from. but you just distance yourself from it little by little as soon as you leave that reality behind – sad but true."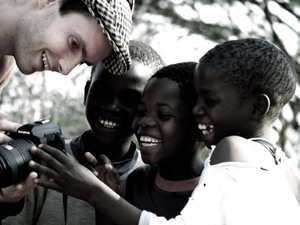 the girl in the middle looks at a picture of herself. the children were astonished to see themselves in pictures and always had fun doing this.
unfathomable beauty
"despite all this misery, all this poverty, and all this despair," says jónsi, "the children were still so unbelievably beautiful, so sincere, and gave so much of themselves, though they didn't have anything at all. and it was through this that i experienced such remarkable beauty there. people have a kind of connection with nature there, and that somehow makes them whole. toys and things were made out of wire or junk or garbage. in a certain way this can be truly lovely as well."
georg is of the same mind.
"the attitude there is such that people don't lament their circumstances. like a boy we met there – he was just building his own house, no problem!" he was halfway done when we stopped to see him, grinning ear to ear, HIV-positive, parents both dead. he just kept himself up so well and made such a good impression. amazing. people live with all this and are able to hold onto their dignity."
as was mentioned before, it is quite taboo to be HIV-positive and child abuse is rampant.
"but still i felt like there was growing discussion," says jónsi. "there was a lot of coverage in the papers about the abuse. there are also efforts to increase discussion about these issues. there are so many orphaned children that are put with relatives or other people, and terrible things happen sometimes. we went to a theater festival held by a number of schools, which was a very unique experience. the plays, which had been put together by these kids, were all about abuse. it was astonishing to see this."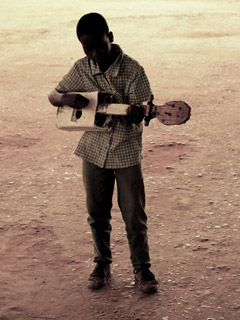 this boy made his own guitar out of wood and played a five-minute guitar solo for sigur rós, much to their amusement.
in great need
the band mates says that even pocket change from iceland could make a substantial difference for the better.
"that's the idea now behind this fundraising campaign," says georg. "to encourage people to become a UNICEF global parent. a small amount of money to us is an enormous amount to them. you can make a huge difference by registering to donate."
when asked about the bonds and relationships among the band members during the trip there was not much of a reply.
"yeah…" says jónsi. "i think it was good for us to go on this together. i think we were all greatly affected and have let this influence us, each in his own way. be we haven't talked about this experiences together much…we're all so weird (laughs)."
georg says that above all he feels the need to take action and change the situation.
"it was such a great culture shock. so difficult. then you come home to the hotel, have a beer and it all comes rushing out. you get angry and ask, "what's going on here?"
jónsi says they have been talking about that it is simply a matter of obligating people to get out there, just like people are obligated to serve in the army.
"when people turn 18 just send them out there. two weeks – their lives will never be the same."
by arnar eggert thoroddsen, translated from icelandic by jonas moody